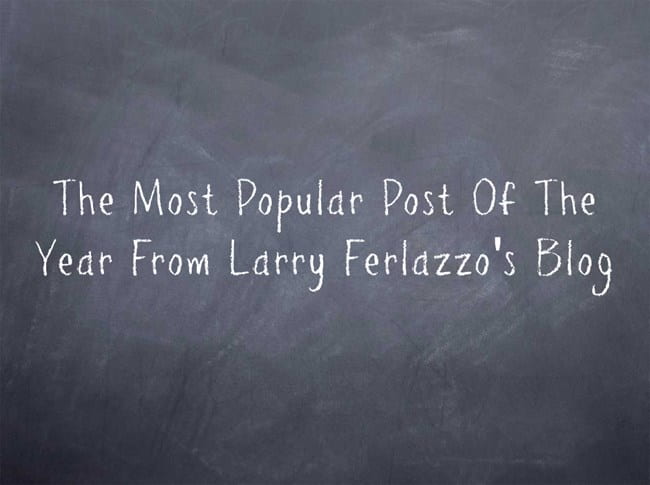 What a year it has been!
This blog had 800,000 visitors this calendar year.  Of course, that doesn't count the 20,000 people who subscribe and can read the posts without actually going to the site.
A separate post will highlight the most popular posts at my Education Week column.  I don't think I'm supposed to publicly share the actual visitor numbers there, but they are pretty darn big.
Here are the fifteen most popular posts of the year appearing on this blog:
1.The Best Websites For Creating Online Learning Games
2. The Best Online Virtual "Corkboards" (or "Bulletin Boards")
3. The Best Resources For Helping Teachers Use Bloom's Taxonomy In The Classroom
4. THE BEST ONLINE LEARNING GAMES TO PLAY DURING DISTANCE LEARNING – SHARE YOUR ADDITIONS!
5. LIST OF KNOWLEDGE QUESTIONS MY TOK STUDENTS ARE USING THIS YEAR FOR THEIR ORAL PRESENTATIONS
6. The Best Places To Get The "Same" Text Written For Different "Levels"
7. The Best Temporary Email Address Sites For Students (Or Anyone)
8. THE BEST VIDEO CLIPS SHOWING EXAMPLES OF BAD & GOOD LISTENING – CONTRIBUTE MORE!
9. THE BEST FACE MASKS FOR TEACHERS IN THE CLASSROOM (OR, AT LEAST, THE MOST COMFORTABLE ONES)
11. The Best Sites For Learning About The World's Different Cultures
12. THE BEST TEACHING & LEARNING RESOURCES ABOUT AMANDA GORMAN'S POETRY
13. The Best Questions To Use For Class Closing Activities — What Are Yours?
14. The Best Places To Read & Write "Choose Your Own Adventure" Stories
15. The Best Multilingual & Bilingual Sites For Math, Social Studies, & Science