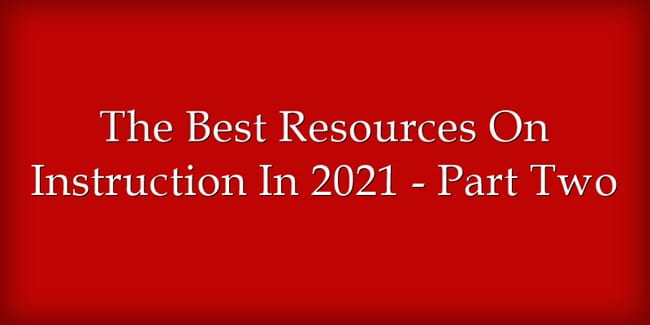 I'm continuing with my end-of-year "Best" list posts…
I'm adding this post to ALL END-OF-YEAR "BEST" LISTS FOR 2021 IN ONE PLACE!
Seven years ago I began publishing a regular Classroom Instruction Resources Of The Week post.  You can see all my "Best" lists on instructional strategies here.
Here are my choices from the past few months:
A book about The 1619 Project was recently published (you can learn more about the project at USEFUL RESOURCES FOR LEARNING ABOUT THE 400TH ANNIVERSARY OF BRINGING ENSLAVED AFRICANS TO AMERICA). Congratulations to Nikole Hannah-Jones! I know I'm looking forward to reading it! At the same time, the Pulitzer Center has expanded their teaching resources about it and created a new website at 1619 Education.It's filled with tried-and-true lesson ideas from teachers across the country and will certainly almost immediately become one of the most popular education sites on the web.
Creating Authentic Audiences for Student Work is from Edutopia. I'm adding it to The Best Places Where Students Can Write For An "Authentic Audience"
A year ago, I wrote The Difference Between "Good" Teaching & "Successful" Teaching – And What This Means For The Next School Year. Larry Cuban, who wrote a piece that prompted me to write that post, now has written another interesting commentary, Whatever Happened to "Ambitious" Teaching? For more info, see David Wees' What is Ambitious Teaching?
The Smithsonian Learning Lab is a very impressive resource. Here's a guide on how to use it.
I really like this lesson from Shana White and Edutopia:
I'm adding this new Edutopia video to THE BEST RESOURCES SHARING RECOMMENDATIONS ABOUT "TEACHER TALK":
The National Museum of American History shares their most popular lesson plans.
A Choice Board for Teaching and Learning With The New York Times is from The NY Times Learning Network.
4 Reading Strategies to Retire This Year (Plus 6 to Try Out!) is from Edutopia. I'm adding it to The Best Posts On Reading Strategies & Comprehension – Help Me Find More!
Teach Writing With The New York Times: Our 2021-22 Curriculum is from The NY Times Learning Network.
Read Write Think has relaunched their website.
Teaching in an Era of Polarization is from NEA News. I'm adding it to The Best Posts & Articles On How To Teach "Controversial" Topics.
Teaching About the Capitol Insurrection is from On Social Studies and Education. I'm adding it to WAYS TO TEACH ABOUT TODAY'S INSURRECTION – SHARE YOUR OWN.
I'm adding this new Edutopia video to The Best Questions To Use For Class Closing Activities — What Are Yours?
Teaching Current Events: Educator Guide is from Facing History, and is updated. I'm adding it to The Best Resources & Ideas For Teaching About Current Events.
Google Arts & Culture is an amazing site, and I have posted about it often. Earlier this year, they finally create a sort of "teacher's hub" for it (see Finally, Google Creates A Central Teachers' Hub For Its Amazing "Arts & Culture" Site). More recently, they announced a new Teacher Guide. It seems like almost a guide to their "teacher's hub."  The Arts and Culture site is sort of a bottomless pit of amazing stuff, so the more they make it accessible to educators, the better….
Literary Puzzles: Using the Do Now in English is from Codexterous. I'm adding it to The Best Resources For "Do Now" Activities To Begin A Class.
There's No Excuse for Not Teaching Critical Thinking is from Education Post. I'm adding it to The Best Resources On Teaching & Learning Critical Thinking In The Classroom.
This is the best thing I've read about interleaving: INTERLEAVING is from The Learning Agency.
Dos and don'ts for talking about students with disabilities is from Teach Learn Grow.
But what about multiple-choice questions? is from Retrieval Practice. I'm adding it to The Best Ways To Use Multiple Choice Exercises.
Here's why students don't revise what they write — and why they should is from The National Writing Project. I'm adding it to The Best Resources On Getting Student Writers To "Buy-Into" Revision – Help Me Find More.