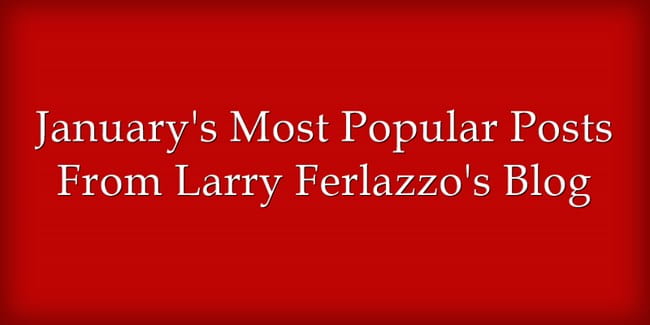 As regular readers know, at the end of each week I share the five most popular posts from the previous seven days.
I thought people might find it interesting to see a list of the ten most popular posts from the previous thirty days.
You might also be interested in IT'S THE FOURTEENTH ANNIVERSARY OF THIS BLOG – HERE ARE THE FORTY ALL-TIME MOST POPULAR POSTS.
Not to mention THE MOST POPULAR POSTS OF THE YEAR:
1.The Best Websites For Creating Online Learning Games
2. The Best Online Virtual "Corkboards" (or "Bulletin Boards")
3. The Best Resources For Helping Teachers Use Bloom's Taxonomy In The Classroom
4. The Best Sites For Learning About The World's Different Cultures
5. THE BEST ONLINE LEARNING GAMES TO PLAY DURING DISTANCE LEARNING – SHARE YOUR ADDITIONS!
7. The Best Places To Get The "Same" Text Written For Different "Levels"
8. A BEGINNING LIST TO LEARN ABOUT THE 2022 BEIJING WINTER OLYMPICS
9. The Best Questions To Use For Class Closing Activities — What Are Yours?
10. THE BEST VIDEO CLIPS SHOWING EXAMPLES OF BAD & GOOD LISTENING – CONTRIBUTE MORE!