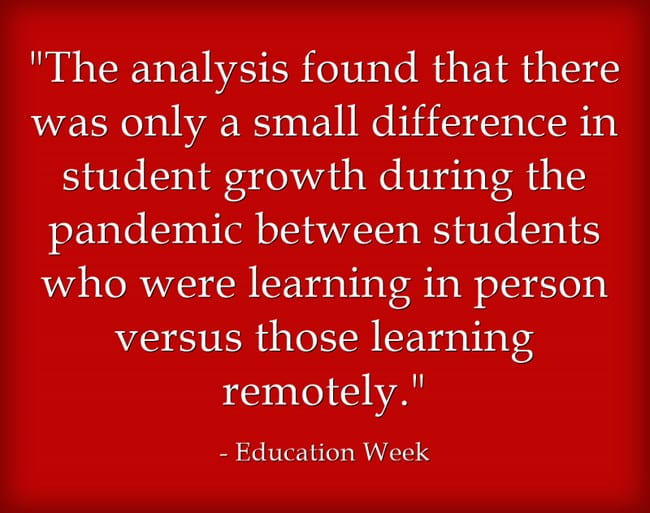 Distance learning has justifiably received a ton of criticism over the past two years, from me, included.
In-person teaching and learning is clearly better for students, families and teachers.
But, most of us teachers tried really, really hard to do a good job at remote learning, as did most students.
A new study shows that it paid off – most students learning remotely advanced academically as much as students who were learning in person during the pandemic (though researchers say the majority did not make as much academic progress as similar students have made in the pre-pandemic past).
The bad news is that many of the smaller number of students who did not make that academic progress lived in lower-income communities (though they may have learned a lot about other things – let's be wary of the "learning loss" narrative).  But that lack of academic  progress was not necessarily attributable to remote learning – as researchers have found, the vast majority of factors that influence student learning are outside the schoolhouse walls, and the lives of low-income people were the ones most negatively affected by the pandemic.  You can learn more about this issue at my Education Week column, No, Temporarily Closing Schools Is Not Like Invading Iraq.
The takeaway from the study, and this post, is not that everything is fine.
The takeaway is that, as the study author says "Back to normal isn't good enough."
Many of our students faced challenges before remote teaching, and they continue to face them.
Schools, and society, need to do better.
One of many things that we could do is start providing The kind of teaching kids need right now.
Here are some other ideas of what we should do: I DON'T THINK MANY OF THE STRATEGIES DISTRICTS ARE HOPING TO USE TO RESPOND TO PANDEMIC LEARNING CHALLENGES ARE GOING TO WORK. HERE'S WHAT I THINK MIGHT…