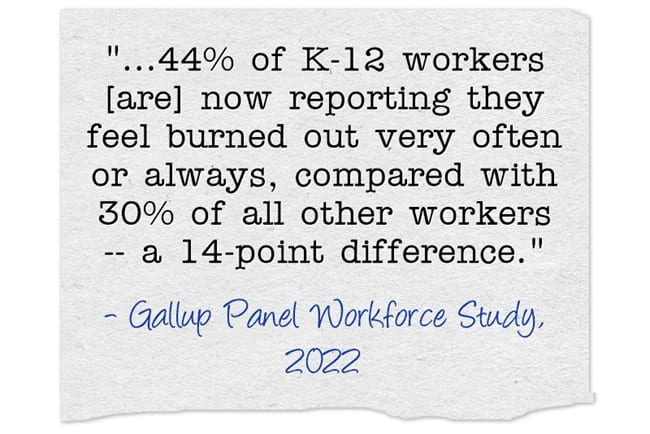 To not a single K-12 teacher's surprise, the new Gallup Panel Workforce Study has headlined its results K-12 Workers Have Highest Burnout Rate in U.S.
Here's a longer excerpt than what is in the above text box:
In March 2020, when the pandemic first began, 36% of K-12 workers reported feeling burned out very often or always, eight percentage points higher than the 28% found among all other workers as a whole. But this gap has since nearly doubled, with 44% of K-12 workers now reporting they feel burned out very often or always, compared with 30% of all other workers — a 14-point difference.
A question, of course, is how many district superintendents will learn from these results and do something about the problem.
In Minneapolis, and here in Sacramento, we had to strike this year to get a little acknowledgement of the challenge (see What the Teacher and Classified-Staff Strike in Sacramento Means for the Country).
In our case, the Superintendent wanted to reduce our salaries.
Skilled district leaders understand that teacher working conditions are student learning conditions (see The Best Posts & Articles About The Importance Of Teacher (& Student) Working Conditions).
Thanks to Alexander Russo for the tip about the Gallup poll.