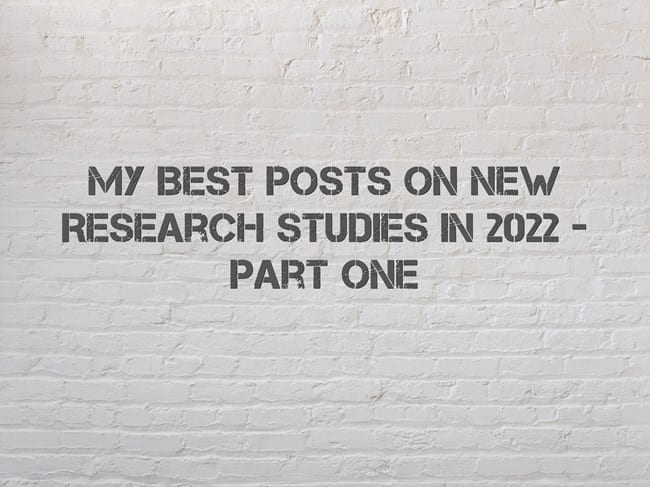 Another day, another mid-year "Best" list.
Now, it's time for research studies.
You can see all previous editions of this list, as well as all my ed research related "best" lists, here.
Here are my choices for the past six months:
STUDY FINDS THAT "HANDS-ON" MATH & PROACTIVE "ROUTINES & PROCEDURES" INCREASE TEST SCORES AND STUDENT ENGAGEMENT
NEW RESEARCH SHOWS THAT "STUDENT VOICE" MATTERS
THREE IMPORTANT REPORTS OFFERING RESEARCH-BASED TEACHING ADVICE
TODAY'S EXAMPLE OF THE BLINDERS THAT SOMETIMES HAMPER THE USEFULNESS OF EDUCATION RESEARCH
NEW STUDY FINDS TEACHER TURNOVER RATES INCREASED IN MASSACHUSETTS – I SUSPECT THIS IS TIP OF ICEBERG
INTRIGUING RESEARCH SUGGESTS RELATIVELY SIMPLE EXERCISE WITH TEACHERS MIGHT REDUCE STUDENT SUSPENSIONS
NEW STUDY ON WHAT HAPPENS WHEN TEACHERS TEND TO ACT MORE PUNITIVELY WOULD BE GOOD OUTLINE FOR CLASSROOM MANAGEMENT PD
STUDY FINDS THAT REMOTE TEACHING WASN'T NECESSARILY PRIME CHALLENGE AFFECTING STUDENT LEARNING – EVERYTHING ELSE PROBABLY WAS
"TESOLGRAPHICS" IS AN EXTRAORDINARY SITE WITH INFOGRAPHIC SUMMARIES OF KEY RESEARCH ON TEACHING ELLS
USEFUL FINDINGS FROM NEW PAPER APPLYING "DESIGN PRINCIPLES" TO INSTRUCTION
NEW STUDY EXAMINES WHAT HELPS STUDENTS MOST WITH READING COMPREHENSION
NEW STUDY FINDS THAT PRETTY MUCH ALL TEACHER EVALUATION "REFORMS" HAVE FAILED
IMPORTANT RESEARCH ON WHAT HAPPENS TO CHILDREN AFTER THEY ARE TAUGHT ABOUT RACISM
Here are some other useful studies I've included in my weekly research reviews, even though I didn't write separate posts about them:
I've shared several good analyses of a recent well known study that was not very positive of Pre-K school. In defense of pre-K is clearly the best yet, and offers extremely important commentary on education research in general. That's why I'm adding it to The Best Resources For Understanding How To Interpret Education Research. The NY Times has recently published another related column: Pre-K Is Powerful if Done Right. Here's How.
Teacher relationship skills and student learning is a new and useful study. I'm adding it to The Best Resources On The Importance Of Building Positive Relationships With Students.
Pandemic school reopenings were not just about politics is from Vox.
PROOF POINTS: Researchers blast data analysis for teachers to help students is from The Hechinger Report. I'm adding it to The Best Resources Showing Why We Need To Be "Data-Informed" & Not "Data-Driven." You might also be interested in A Look Back: Studies Find That Teachers Analyzing Data Is No Help To Students If It Doesn't Result In Different Instructional Practices .
PROOF POINTS: Debunking the myth that teachers stop improving after five years is from The Hechinger Report. I'm adding it to The Best Articles For Helping To Understand Why Teacher Tenure Is Important.
Impacting 9th Grade Educational Outcomes: Results from a Multisite Randomized Controlled Trial of the BARR Model is from Journal of Research on Educational Effectiveness. I'm adding it to The Best Resources For Learning About The Importance Of Ninth-Grade For Students – & How To Support Them. I've previously written about BARR at New Study Finds That Specific Ninth-Grade Intervention Very Effective & It's Remarkably Similar To What We Do At Our School.
Learning through 'guided' play can be as effective as adult-led instruction up to at least age eight is from Science Daily. It sounds like their definition of "play" is inductive teaching and learning. I'm adding it to The Best Resources About Inductive Learning & Teaching.