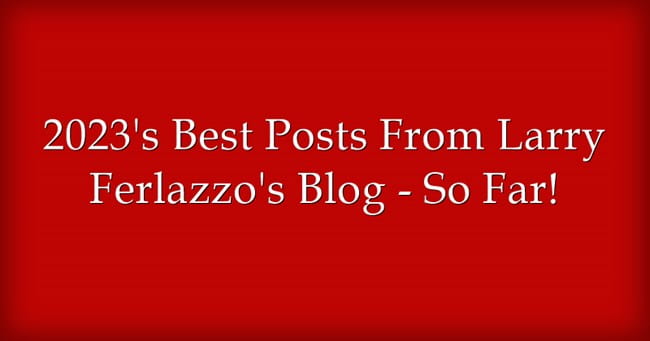 Twice each year, I post my favorite posts that appeared in during the previous six months. This post is for my favorites from the first half of 2023 (and from December, 2022).
You can see my choices for each of the past fifteen years here.
And you can also see a list of my My All-Time Favorite Posts!
Here are my choices:
NON-BEST LISTS:
WHEN TEACHING ELLS, SHOULD THEY READ ABOUT CONTENT FIRST & THEN WATCH RELATED CONTENT OR THE REVERSE?
HERE'S A DRAFT WEEK-LONG UNIT ON ARTIFICIAL INTELLIGENCE I'M USING TO FINISH THE YEAR – HELP ME MAKE IT BETTER
HERE'S THE GUIDANCE I GAVE TO STUDENTS ABOUT USING CHATGPT – HELP ME MAKE IT BETTER
"READM" LOOKS LIKE A GREAT NEW & FREE AI-POWERED SITE FOR ELLS
RESEARCHERS – AGAIN – OFFER INTERESTING DATA & FEW PRACTICAL SUGGESTIONS ABOUT ACCELERATING LEARNING – HERE ARE BETTER ONES
5 THINGS THAT HAVE GONE WELL & 5 THINGS THAT COULD HAVE GONE BETTER THIS SCHOOL YEAR
I SUSPECT THAT "SPEAKABLE" IS GOING TO BECOME A VERY POPULAR ONLINE TOOL FOR ELLS – IF IT ISN'T ALREADY…
"3 Ways to Make Learning Relevant to Students" Is Excerpt From My New Book
"How to Promote the Intrinsic Desire to Learn" Is Another Excerpt From My New Book
All Student Hand-Outs From My New Student Motivation Book Are Available For Free Download
Update On The Second Edition Of "The ELL Teacher's Toolbox"
ANOTHER EXCERPT FROM MY BOOK PUBLISHED: "WHAT KINDS OF FEEDBACK MOTIVATE STUDENTS BEST?"
STUDENT EXAMPLE OF TEACHING A COMPLEX TOPIC "TO A FIVE YEAR OLD"
SIX CHANGES I THINK I SEE IN STUDENTS SINCE THE PANDEMIC BEGAN – WHAT ABOUT YOU?
What Happens In A Typical Day During My ELL U.S. History Class
What Happens In A Typical Day During My ELL Newcomers Class
"City Stories" Lets You Create Great Online Activities For ELL Students – For Free!
HERE'S THE ADVICE I OFFERED TO TEACHERS – THROUGH THE SACRAMENTO BEE – ABOUT TEACHING ELLS. WHAT WOULD YOU ADD?
It's The Sixteen-Year Anniversary Of This Blog!
"Author Interview With Gholdy Muhammad: 'Unearthing Joy'"
Here Are The Guidelines I Gave A Student Teacher For Teaching US History To ELLs
WE TEACHERS ARE NOT ALRIGHT & HERE ARE SOME IDEAS FOR MAKING THINGS BETTER
Are Using Simulations In The Classroom One Way To "Accelerate Learning"?
Why Did I Have So Much Energy When I Began Teaching & Feel So Tired Now? Here Are Some Possible Answers
It's Two-Thirds Into The School Year – Here Are Five Things That Have Been Going Well, Along With Five Challenges
NEW HELPFUL – & PRACTICAL – STUDY ON "ASSET-BASED PEDAGOGY"
"EDUCATORS NEED TO GET WITH THE AI PROGRAM. CHATGPT, MORE SPECIFICALLY"
HOW I'M USING AI ART GENERATION TO TEACH ENGLISH TO NEWCOMERS
NEW STUDY FINDS WHAT MOST TEACHERS ALREADY KNOW – OUR TONE MATTERS
THE INSTRUCTIONAL STRATEGIES & ONLINE TOOLS THAT HAVE WORKED BEST IN MY CLASSES THIS SCHOOL YEAR (& A COUPLE OF IDEAS I'M GOING TO TRY)
The "True Stories" Book Series Is An Extraordinary Match For My ELL Newcomers Classroom – Do You Know Of Other Similar Titles?
YES, OUR STUDENTS ARE EXPERIENCING LEARNING CHALLENGES &, NO, THEIR PRIMARY CAUSE WAS NOT DISTANCE LEARNING
QUOTE OF THE DAY: JASON REYNOLDS ON "LEARNING LOSS"
NEW PAPER, FROM SURPRISING AUTHOR, FINDS – WAIT FOR IT – MONEY MATTERS TO SCHOOLS
"BEST" LISTS:
The "Best" Ideas For Using ChatGPT, Bard, & Other Forms Of AI With Students
THE BEST POSTS & ARTICLES EXPLAINING WHY WE SHOULD ENCOURAGE PARENT ENGAGEMENT, BUT NOT PARENT BULLYING
THE BEST RESOURCES FOR LEARNING ABOUT PROJECT ZERO'S THINKING ROUTINES
THE BEST RESOURCES ON PEER TUTORS
A COLLECTION OF "BEST" LISTS ABOUT USING ARTIFICIAL INTELLIGENCE IN EDUCATION