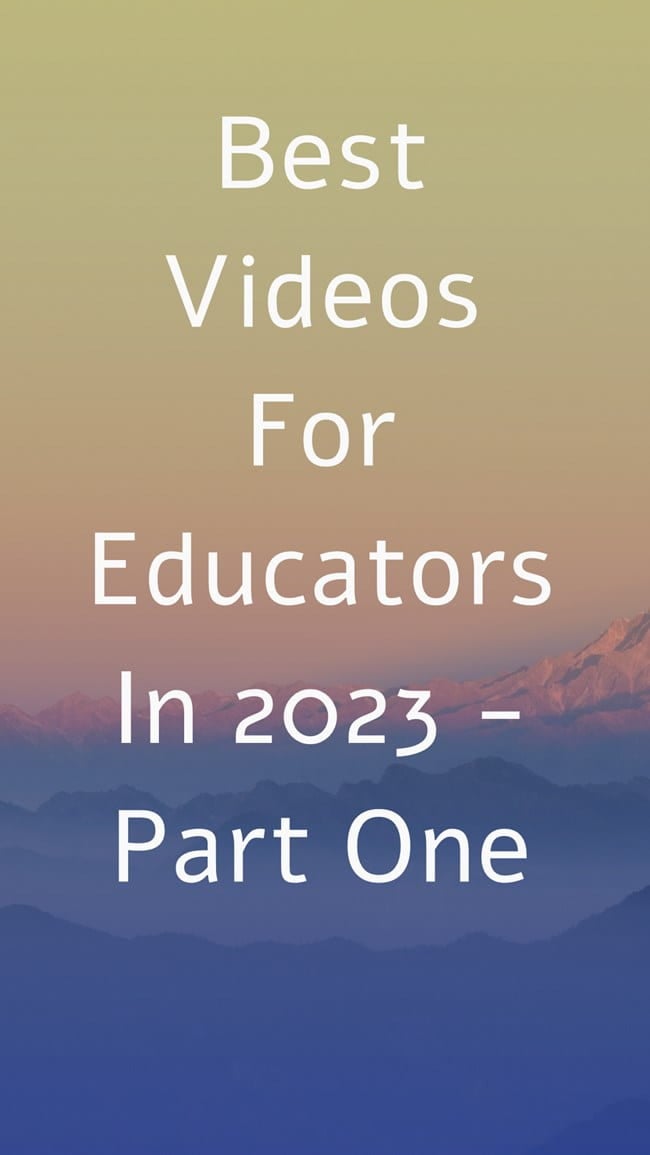 It continues to be time for mid-year "Best" lists.
Now it's time for the Best Videos For Educators.
You can see all my previous "Best" lists related to videos and movies (and there are a lot since I've doing this since 2007) here. Note that they're also continually revised and updated.
Here are my picks from the first half of 2023:
THE BEST VIDEOS EXPLAINING CONFIRMATION BIAS
I've previously posted about StoryCorps many times, and they've just done it again!
They've just begun publishing a series of animations they're calling "History Lessons." 
Here's how they describe them:
We're bringing history to life like never before, showcasing the defining moments that have shaped our world today through the eyes of the people who lived them. Stay tuned and explore stories that celebrate history.
Here's the first one:
I'm adding this BBC video to The Best Resources For Showing Students That They Make Their Brain Stronger By Learning:
I was honored to be a guest on the All Of The Above show, hosted by Jeffrey Garret and Manuel Rustin, to talk about my new book on student motivation:
This skit was on Saturday Night Live.
You might also be interested in THE BEST WAYS TO SUPPORT LGBTQ STUDENTS.
This was quite a Daily Show interview with Jerry Craft, acclaimed children's book author (whose most recent book has been banned by various districts):
This new video from Voice of America is worth watching.
Here's how they describe it:
High school teacher, Sean Miller, has invented his own creative approach to teaching history. Through various forms of art, he brings historical events and figures to life for his students.
"Use of Artificial intelligence generates questions about the future of art" is the title of this recent PBS NewsHour segment, and it's perfect for the classroom – especially for my IB Theory of Knowledge class:
I'm adding this new video to  Best Posts On "Motivating" Students:
I'm adding this video to The Best Resources For Helping Teachers Use Bloom's Taxonomy In The Classroom:
Check out this new and useful Edutopia video.
While you're at it, you might be interested in No Surprise To ELL Teachers: Study Finds Drawing Words Helps In Learning Them.
Drawn in Sixty Seconds is a good YouTube video with…sixty second animated videos on Social Studies topics.
It's from the UK, and has topics more specifically relevant to that country, but also has many that can be useful anywhere.
Here's an example:
I'm adding this new TED-Ed lesson and video to The Best Ideas To Help Students Become Better Listeners — Contribute More:
I was watching the Fiesta Bowl (dull first half, amazing second half!) and saw a pretty neat PSA about teachers.
I hadn't realized that the College Football Playoff Foundation had a program to support educators.
The PSA from this year wasn't available yet online, but this one from last year's game was:
I'm adding it to The Best Resources To Learn About World Teachers Day.
PBS NewsHour had this important segment.
I'm adding it to THE BEST WAYS TO SUPPORT LGBTQ STUDENTS.
"The Swimmers" has come to Netflix, and it looks like a terrific movie about the courage and resilience of refugees.
Read this article to find out more about the story: The real story behind Netflix's The Swimmers.
I'm adding this info to The Best Sites For Learning About World Refugee Day.
I'm looking forward to watching it tonight!
Here's the movie's trailer: