Yesterday was the last day of the school year, and I have to say I'm a bit drained.
Though the school year went well, I experienced many of the same challenges most teachers have had to deal with this year.
In addition, along with trying to maintain my positive energy in the final weeks, we had to pack up every single thing in our rooms so they could be carted away in preparation of our school's summer renovation.
After a couple of days of long naps (a practice I hope to continue throughout the summer), though, I should be ready for a summer of Pickleball, basketball, and education projects!
These projects will include:
Katie Hull Sypnieski and I are preparing the second edition of The ELL Teacher's Toolbox.  Our days of completing a book in a single summer are past, though, so we will just be doing one-half of it.  The remaining portion needs to wait until next summer but, believe me, it will be worth the wait!
The two of us also anticipating doing more animated videos with Education Week.  These always turn out well, and tend to be pretty popular.  You can see past ones here.
I'll be co-hosting, with Carol Salva, a wonderful FREE online professional development activity – The Multilingual Learner Summit.  You can register for it here, and learn more info from the image below.  Truth-be-told, I'm not quite sure what my co-hosting duties will be yet, but I'll just plan on doing whatever Carol tells me to do 🙂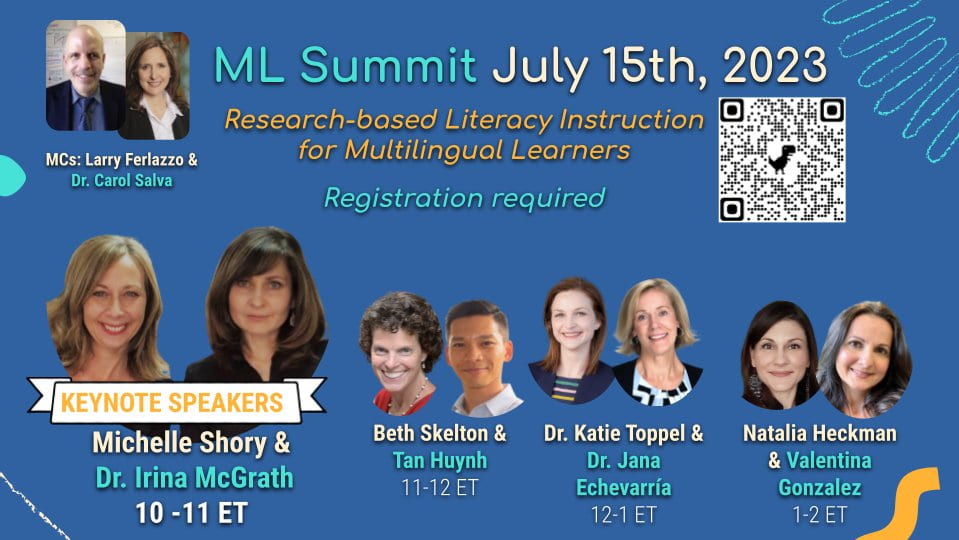 I also expect to tape a number of episodes for my BAM! Radio Show.  You can listen to nearly three-hundred of them here.
And, of course, I'll continue to be posting here and over at Education Week.
So, I'll be busy, but also I'll be sure to be leaving time for naps, sports, and family!