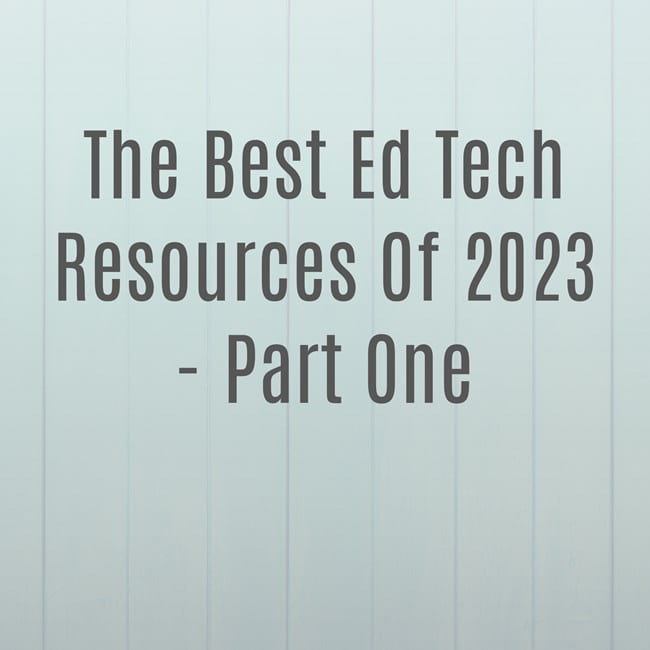 My mid-year "Best" list posts continue…
I publish a regular series called Ed Tech Digest, and I thought it would useful to readers and to me to review them and highlight the ones I think are the best of the year.
You can see previous editions of this list, along with all the "Best" lists related to ed tech, here.
Here are my choices from the past six months:
The Best Posts On Education & ChatGPT.
The Best Tools That "Automatically" Create Presentations
The Best Online Tools Using Artificial Intelligence For Creating Stories For Children
THE BEST NEW – & FREE – ARTIFICIAL INTELLIGENCE TOOLS THAT COULD BE USED IN THE CLASSROOM
A Beginning List Of The Best Resources For Teaching About Artificial Intelligence
THE BEST RESOURCES FOR HELPING STUDENTS SEE THE BENEFITS OF WRITING (IN THE AI AGE)
THE "BEST" IDEAS FOR USING CHATGPT, BARD, & OTHER FORMS OF AI WITH STUDENTS
NOT NECESSARILY THE "BEST," BUT A LIST OF AI TEACHER PREP SITES
A REALLY BAD THING ABOUT AI IS THAT IT FORCES US TEACHERS TO SPEND A TON OF TIME RETHINKING OUR LESSONS. I GUESS THAT MIGHT BE A GOOD THING ABOUT IT, TOO
THE BEST 34 FREE AI TOOLS FOR EDUCATION IN 2023 – SO FAR
THE BEST POSTS ABOUT USING ARTIFICIAL INTELLIGENCE WITH ELLS
MY BEST POSTS ON ARTIFICIAL INTELLIGENCE IN THE CLASSROOM
THE BEST FREE ONLINE TOOLS USING ADAPTIVE LEARNING
THE ONLINE TOOLS I HAD STUDENTS USE MOST THIS YEAR
USE "GRIDPALS" TO CONNECT WITH "SISTER" CLASSES
HOW I'M USING AI ART GENERATION TO TEACH ENGLISH TO NEWCOMERS
Sound Advice: The NPR guide to student podcasting is a recently updated resource from…NPR. I'm adding it to The Best Resources For Teacher & Student Podcasting.
Europeana is an online collection of items from many European museums, and lets you choose from them to create your own online collection. I'm adding it to The Best Ways For Students To Create Their Own Online Art Collections.
Explore the world's searches with the new Google Trends is from Google. I'm adding it to The "All-Time" Best Places To Find The Most Popular (& Useful) Resources For Educators.
I'm adding this tweet to The Best Advice On Using Education Technology:
I think every educator who uses edtech (in other words, all of us teachers) & every developer of edtech should read this piece by @ddmeyer and reflect what it means for how we implement it in the classroom https://t.co/rDp1ZdPf5R

— Larry Ferlazzo (@Larryferlazzo) March 16, 2023
Animated Route Maps "lets you easily create and modify a travel route on Google Maps and then view the scenery along the route using animated Street View." I'm adding it to The Best Map-Making Sites On The Web.
I can't imagine @desmosclassroom without 2:1 device usage. The discussions and ideas are so much richer. #iteachmath #mtbos #HMSFalcons https://t.co/NGPczteoax

— Katie Grunow (@ConicDal) April 19, 2023
🌴 I got a great question from a school in NYC worried that computers were going to undermine conversation in their classrooms. Here's a few ideas about that & a short video from a Chicago classroom. https://t.co/7vMPLQWVEc

— Dan Meyer (@ddmeyer) April 20, 2023
What Netflix Would Look Like if an Edtech Company Built It is by Dan Meyer. I'm adding it to The Best Resources Showing Why We Need To Be "Data-Informed" & Not "Data-Driven"
3 reasons why Seattle schools are suing Big Tech over a youth mental health crisis is from NPR.
School Districts Are Being Held For Ransom Over Data. Are Solutions On The Way? is from Ed Surge.
I'm adding this next tweet to  The Best Posts On Student Cellphone Use In Class — Please Contribute More:
This is one of the more common-sense perspectives on cellphones in the classroom that I've seen. https://t.co/xvvt1KanV2

— Larry Ferlazzo (@Larryferlazzo) October 5, 2022