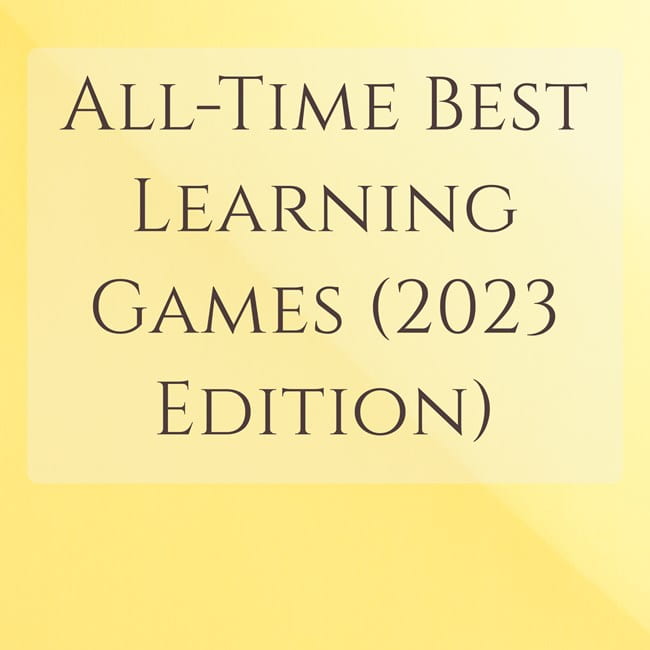 I created a series of "All-Time" Best lists seven years ago (you can see them all here), and have now begun publishing new-and-revised versions.
You can also see all sixteen year's worth of  "Best" lists related to learning games here.
Here are my choices for best online learning games (if I'm ambitious, I'll write one on non-online games sometime):
Jeopardy Labs lets teachers and students create their own online games of Jeopardy. No registration is required, and each game has its own unique url address. Most other apps to create Jeopardy games require a software download, which makes Jeopardy Labs really stand-out since none is required.
Of course, I have to include the famous Free Rice game.  It's great that they donate rice to the United Nations food program for every correct answer, but that's not why it made my list.  It's here because it's a neat vocabulary-building exercise for anyone.  It stands-out because it only increases its difficulty level based on how well you're doing in the game.
I have previously posted about the British game show, Only Connect (see "Only Connect" Is A Great Game For The Classroom),  which provides you with a number of words and you have to find connections between different sets of four of them.
I've also posted about "Connect Fours," which is an online tool that lets anyone create their own version of the game (see Web 2.0 Tools For Beginning English Language Learners – "Connect Fours").  There are also other similar online games that offer ways to make your own versions. I've had my ELL students play the game and also make ones that their classmates can play. The New York Times has just unveiled their own version of it they're calling "Connections." They put a new version on the site each day, though I didn't see how you could access earlier ones. It didn't seem very difficult the day I played it, so I think Intermediate ELLs might enjoy it.  They could play it individually, or it could be projected on a screen with students playing it in small groups and with mini-whiteboards. Also, see "PUZZGRID" IS AN EXCELLENT INDUCTIVE LEARNING GAME FOR ELLS & ALL STUDENTS.
Launchball is from the British Science Musuem.  Students can create a sort of video game (and learn scientific concepts in the process), title it, and post the url. Total Darkness is another good game from the same museum.
Quizizz is my favorite – by far – game that students can play in a virtual room online.  Blooket comes in number two.
Fluent Key "gamifies" videos – it has a lot of similarities to Quizizz or Blooket.
iCivics, of course (see WOW! IT LOOKS LIKE ICIVICS WANTS TO BE THE ONE-STOP SHOP FOR SOCIAL STUDIES TEACHERS).
Legends of Learning (see IT APPEARS THAT THE EXCEPTIONAL SCIENCE SITE "LEGENDS OF LEARNING" IS NOW REALLY FREE).
Mission US, which is funded by the Corporation For Public Broadcasting and the National Endowment For The Humanities, has U.S. History-related "Choose Your Own Adventure" games ranging from great to terrible (like its underground railroad one).  It seems to be learning, however, about the potential dangers of certain simulations (see The Dangers – & Positive Possibilities – Of History Simulations).