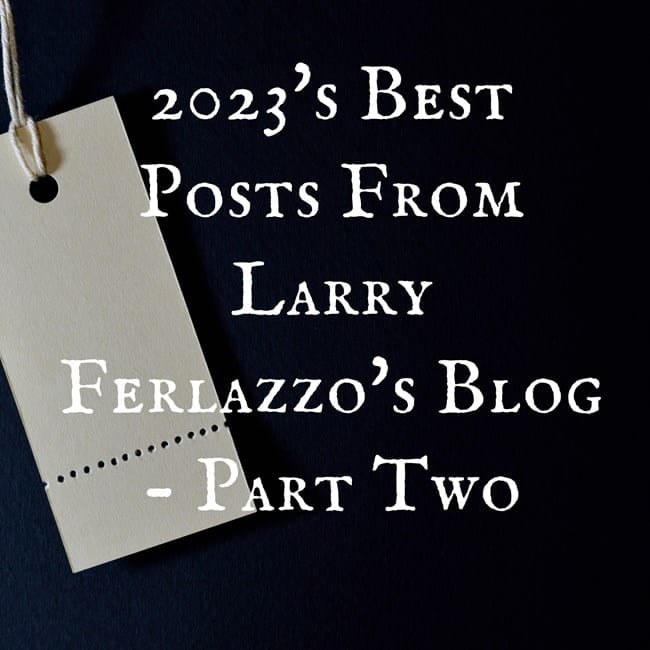 Even though it's only late October, it's time to start my "Best Of The Year" lists or else I won't get them done before the end of the year.
I'm starting off, as I usually do, with sharing my choices for the best posts that have appeared in this blog over the past six months.
You can see Part One here; you can see my picks for the best over the past seventeen years here, and you can see all my previous annual "Best" lists here.
Here are my recent choices:
NON-BEST LISTS:
A REALLY BAD THING ABOUT AI IS THAT IT FORCES US TEACHERS TO SPEND A TON OF TIME RETHINKING OUR LESSONS. I GUESS THAT MIGHT BE A GOOD THING ABOUT IT, TOO
TEACHING IS HARD & HAS ITS UNIQUE CHALLENGES, BUT I'M NOT SURE WE NEED TO BEAT OUR CHESTS ABOUT IT
NEW PAPER, FROM SURPRISING AUTHOR, FINDS – WAIT FOR IT – MONEY MATTERS TO SCHOOLS
5 THINGS THAT HAVE GONE WELL & 5 THINGS THAT COULD HAVE GONE BETTER THIS SCHOOL YEAR
THIS IS THE "GUIDE" I GAVE MY THEORY OF KNOWLEDGE STUDENTS TO HELP THEM WRITE THEIR ESSAYS
HERE'S THE GUIDANCE I GAVE TO STUDENTS ABOUT USING CHATGPT – HELP ME MAKE IT BETTER
HERE'S A DRAFT WEEK-LONG UNIT ON ARTIFICIAL INTELLIGENCE I'M USING TO FINISH THE YEAR – HELP ME MAKE IT BETTER
NEW GUIDANCE I'M GIVING MY STUDENTS ON CHATGPT USE – WE'LL SEE HOW IT GOES
RESEARCHERS – AGAIN – OFFER INTERESTING DATA & FEW PRACTICAL SUGGESTIONS ABOUT ACCELERATING LEARNING – HERE ARE BETTER ONES
NEW SURVEY ON SCHOOL LEARNING, RELATIONSHIPS, & BELONGING CONTAINS LOTS OF USEFUL & CONCERNING INFO
EIGHT WAYS WE ARE "ACCELERATING LEARNING" FOR OUR ELL NEWCOMERS THIS YEAR
THESE ARE THE BEST SIX PARAGRAPHS YOU'RE GOING TO READ ABOUT TEACHER-PARENT COMMUNICATION THIS YEAR
LEARNING GAMES & ARTIFICIAL INTELLIGENCE
ALMOST HALF OF U.S. TEACHERS HAVE ELLS IN THEIR CLASSES
How I'm Visualizing Assessment Data For Students
USING "A MILLION MILES AWAY" AS AN SEL OPPORTUNITY
WE'VE COMPLETED 45 OUT OF 61 CHAPTERS FOR THE "ELL TEACHER'S TOOLBOX, SECOND EDITION"!
HERE'S THE AI GUIDANCE I'M GIVING TO MY TOK STUDENTS THIS YEAR
THIS IS ONE OF THE BEST ARTICLES I'VE READ ABOUT "FAILURE"
I AM INTRIGUED BY THE IDEA INDIVIDUAL STUDENT LEARNING PLANS THAT ARE CO-CREATED & ASSET-BASED
I LIKE THE NEW SCIENCE OF "POSITIVE CHILDHOOD EXPERIENCES" & THE ROLE EDUCATORS CAN PLAY IN THEM
STUDY FINDS SUMMER SCHOOL IS NO MAGIC BULLET
NY TIMES UNVEILS GAME WHERE PLAYERS HAVE TO PUT HISTORICAL EVENTS IN CHRONOLOGICAL ORDER
SMALL, BUT IMPORTANT, CHANGES I'VE MADE TO THE AI GUIDANCE I'M GIVING TO STUDENTS THIS FALL
THIS MAY BE THE BEST & MOST USEFUL ARTICLE I'VE EVER READ ABOUT A "GROWTH MINDSET"
6 LESSONS I LEARNED (OR RELEARNED) THIS SCHOOL YEAR
The Online Tools I Had Students Use Most This Year
AI CAN BE HELPFUL TO TEACHERS BUT, DESPITE WHAT SAL KHAN SAYS, IT WILL NOT BE "THE BIGGEST POSITIVE TRANSFORMATION THAT EDUCATION HAS EVER SEEN"
HERE'S THE FINAL PROJECT MY ELL U.S. HISTORY CLASS IS DOING THIS WEEK
I ASKED ARTIFICIAL INTELLIGENCE TO RECOMMEND STUDENT WRITING PROMPTS THAT CAN'T BE EASILY HELPED BY AI – HERE ARE 14 OF THEM
A New Way I'm Introducing My Artificial Intelligence Unit To Students – With Handout
HERE IS MY SIMPLE RECOMMENDATION FOR HOW OUR ELL SUMMER SCHOOL CLASS SHOULD GO
CHATGPT IS A STUDENT LETTER OF RECOMMENDATION MIRACLE!
MY TENTATIVE PLANS FOR A TWO-PERIOD ELL NEWCOMERS CLASS NEXT SCHOOL YEAR
AFTER A NUMBER OF CHATGPT EXPERIMENTS, HERE IS THE STUDENT GUIDANCE I THINK I'LL START OFF WITH NEXT YEAR. HOW CAN I IMPROVE IT?
NEW STUDY SUGGESTS THAT JUST FIVE PERCENT OF TEACHERS DOUBLE THE RACIAL DISCIPLINE GAP
AN OLD & CRANKY TEACHER'S LIST OF 8 PET PEEVES ABOUT THE EDUCATION WORLD
"BEST" LISTS:
HERE ARE THE (MOSTLY FREE) SITES MY ELL NEWCOMER STUDENTS POST GOOGLE'S OCT. 23RD'S BIG CHANGES
The Best Tools Where Content Teachers Can Have Materials Automatically Translated For ELLs – Help Me Find More!
MY ALL-TIME FAVORITE POSTS (2023 EDITION!)
ALL-TIME BEST ONLINE LEARNING GAMES (2023 EDITION)
ALL-TIME BEST VIDEOS FOR EDUCATORS (2023 EDITION)
THE BEST RESOURCES TO HELP ELL STUDENTS WITH SIMULTANEOUS TRANSLATION IN THE CLASSROOM
THE BEST RESOURCES FOR SUPPORTING ELLS WITH BLOOM'S TAXONOMY
MY 8 END-OF-SCHOOL-YEAR REFLECTION POSTS – ALL IN ONE PLACE (2023)
THE BEST 34 FREE AI TOOLS FOR EDUCATION IN 2023 – SO FAR
WHAT HAPPENS WHEN WE APPROACH "COMPLEX" PROBLEMS WITH A "COMPLICATED" MINDSET? NOTHING GOOD