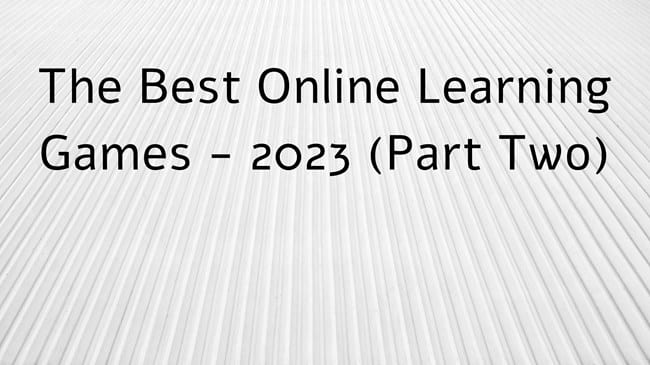 It continues to be time for end-of-year "Best" lists.
You can see all my previous Online Learning Games "Best" lists (and there are a lot since I've doing this since 2007) here. Note that they're also continually revised and updated.
Here are my picks from the second part of 2023:
I FINALLY FOUND AN UNBLOCKED SITE WHERE MY ELL NEWCOMER STUDENTS CAN PLAY VIDEO GAMES AS PART OF ONE OF MY FAVORITE LESSONS!
USING ONLINE "POINT-AND-CLICK ESCAPE THE ROOM" GAMES WITH ELLS
ALL-TIME BEST ONLINE LEARNING GAMES (2023 EDITION)
LEARNING GAMES & ARTIFICIAL INTELLIGENCE
HERE IS A LIST OF GAMES CHATGPT SAYS IT CAN PLAY WITH ELLS TO HELP THEM LEARN ENGLISH
Alphabet Sorcery is a new online word game.
You're give seven letters, and have to come with words that have four or more letters.
The best thing about it is that you can create virtual rooms where players can compete against one another. You can't make them private, but if you create one and give all students a minute to register, it's unlikely anyone else will join before you start the game.
I'm adding it to The Best Online Games Students Can Play In Private Virtual "Rooms"
Charades AI is a…charades game that you can play with a friend.  I may try projecting it on the whiteboard, giving small students mini-whiteboards, and playing it that ways as a class.
I have previously posted about the British game show, Only Connect (see "Only Connect" Is A Great Game For The Classroom),  which provides you with a number of words and you have to find connections between different sets of four of them.
I've also posted about "Connect Fours," which is an online tool that lets anyone create their own version of the game (see Web 2.0 Tools For Beginning English Language Learners – "Connect Fours").  There are also other similar online games that offer ways to make your own versions.
I've had my ELL students play the game and also make ones that their classmates can play.
The New York Times has unveiled their own version of it they're calling "Connections."
They put a new version on the site each day, though I didn't see how you could access earlier ones.
It didn't seem very difficult the day I played it, so I think Intermediate ELLs might enjoy it.  They could play it individually, or it could be projected on a screen with students playing it in small groups and with mini-whiteboards.
I'm adding this info to The Best Ideas For Using Games In The ESL/EFL/ELL Classroom.
Also, see "PUZZGRID" IS AN EXCELLENT INDUCTIVE LEARNING GAME FOR ELLS & ALL STUDENTS, though that site may or may not still be online.
You can create your own "Connections" game at Create A Puzzle.
Google has unveiled a new online game about ancient Egypt called Return of the Cat Mummy.
And, while you're at it, you can see all of Google's learning games, and there are a lot of them, at its "Play" collection site.
Touring Test is a very hard geography game, but it does have some interesting features, including having two playing options – map or multiple choice – and offering the feature of playing in a private room with friends.  So, I'm adding it to The Best Online Geography Games and to The Best Online Games Students Can Play In Private Virtual "Rooms"
DO YOU BELIEVE IN MAGIC? is a fun little game.
The NY Times has a new game called Flashback, where you have to put eight historical events in chronological order.
They say they will be creating new versions weekly, at least for the next couple of months.  That link is just to the first game – it's unclear if they will develop one link to all of them (UPDATE: you can find them all here).
It's a nice game, though not a particularly original one.  Brainpop has had a similar game for quite a while, and WikiTrivia, Mr. Nussbaum's American or World History Timeline – the Game!, and Chrono all pre-date this Times version.
Tasting The World is an interactive game from CNN.
You're shown a food with a clue, and then have to identify the state most associated with it. Then, after you make a choice, you're given more information about it.
You might also be interested in The Best Online Geography Games.