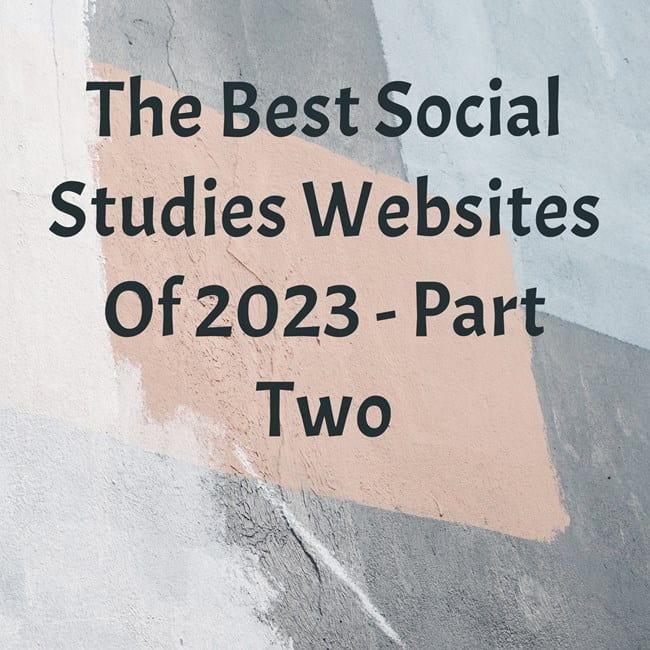 I'm continuing with my end-of-year "Best" list posts…
You can see all previous Social Studies lists here.
Here picks for the second half of the year:
Google has unveiled a Welcome To The White House virtual tour on Google Arts & Culture. Its visual displays are accompanied by very accessible audio and text. Google says it also provides Spanish translation, but I could find how to get that working. I could certainly see using it when doing a lesson on Presidents in an ELL U.S. Government class.
How to Help Kids Become Skilled Citizens is from Harvard. I'm adding it to The Best Websites For Learning About Civic Participation & Citizenship.
A ton of updates to The "Best" Resources For Learning About The Israeli-Palestinian Conflict.
I had not realized that the Obama's were executive producers of the new movie about the famed civil rights organizer Bayard Rustin. I'm adding the trailer to The Best Sites To Teach About African-American History.
iCivics and Nickelodeon have just released a series of twelve Schoolhouse Rock-type videos about how government is supposed to work.
They're pretty catchy, though, if you teach ELLs, you'll want to change the speed to .75.
You can find them all here, and read about them at this NPR story.
The iCivics site says you can download viewing guides, but they don't seem to be available yet (Update: If you go to "Download Resources" under the video, and log-in to iCivics, you can access the viewing guide).
Here's one of the videos – it's pretty catchy:
NY TIMES UNVEILS GAME WHERE PLAYERS HAVE TO PUT HISTORICAL EVENTS IN CHRONOLOGICAL ORDER
Scientific American recently published How Susceptible Are You to Misinformation? There's a Test You Can Take.
It's about a short and simple online test some researchers developed, which is available here.
They ask that you certify that you're eighteen years old in order to take it.
If you want to honor that request (though, perhaps, not its spirit), it seems to me that one way might be to take it as a class and vote on which answer is the correct one.
At the end, you're told how you rate in comparison with others who have taken the test.
I'm adding this info to The Best Tools & Lessons For Teaching Information Literacy – Help Me Find More.
Google Arts and Culture has just unveiled Inside A Genius Mind, a new site on Leonardo da Vinci created in cooperation with museums around the world.
You can read more about it at their announcement.
I'm adding it to The Best Sites For Learning About Leonardo Da Vinci.
The True Size of lets you compare sizes of countries or states. You can read more about it at Richard Byrne's blog. I'm adding it to The Best Online Tools For Comparing The Physical Sizes Of Different Countries.
The year 2026 will be the United State's 250th anniversary, and the U.S. Semiquincentennial Commission invites people to contribute their hopes for the country's future in video, audio or in writing.
You can read more about the planned activities at The NY Times article, Will America Be Ready for Its 250th Birthday?
That article brought back memories of the 200th anniversary for me. I was active in the People's Bicentennial Commission (the article talks briefly about that organization). And on July 4th of that year, I participated in a very large nonviolent demonstration surrounded by police sharpshooters stationed by Mayor and former police chief Frank Rizzo on apartment roofs surrounding the site.
The best part of the day was being able to watch the amazing Philadelphia fireworks display while taking a bus back to New York City, and then being able to watch the last part of the amazing New York City fireworks show that was still going on when we arrived back there!