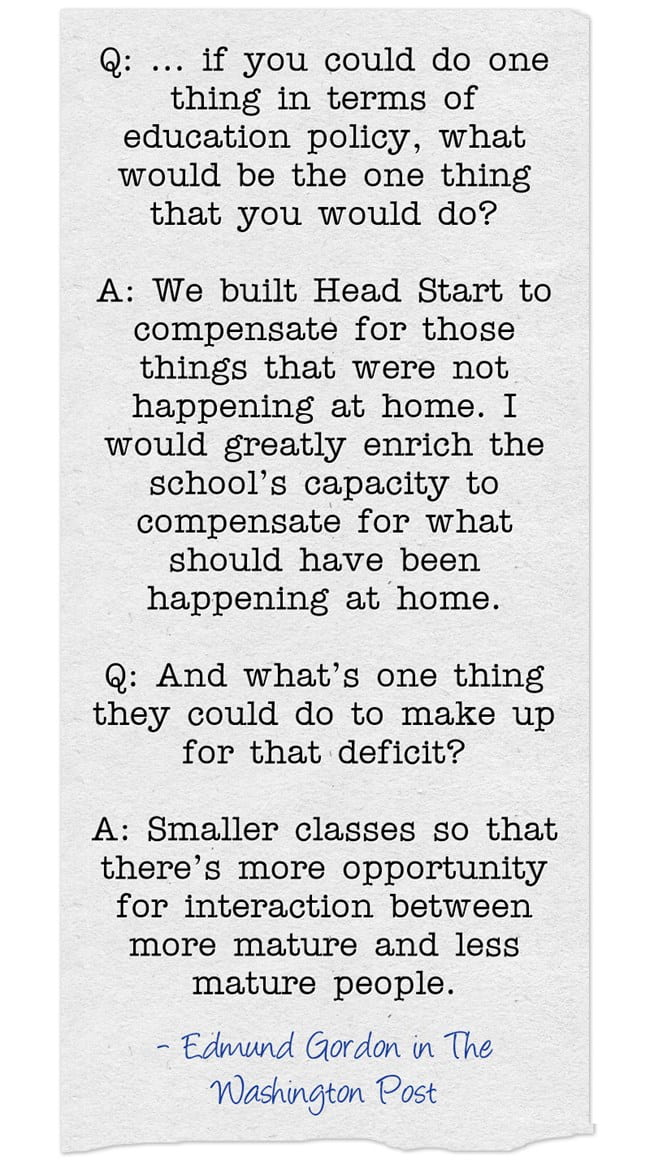 I'm embarrassed to say that I had never heard of Edmund Gordon before reading today's Washington Post piece, At 100 years old, Edmund Gordon thinks the key to schooling starts at home.
Here's how the interviewer describes him:
A respected scholar, a founding father of the Head Start preschool program and expert on educational testing, Gordon has been called the premier Black psychologist of his generation. He has published 18 books and is an emeritus professor at not one, but two Ivy League schools — Yale University and Teachers College at Columbia.
I was particularly struck by the point he made about class size reduction.
Even though a lot of research demonstrates its value in terms of academic achievement measured by test scores (see The Best Resources For Learning About How Class Size Does Matter), some continue to question it.
Professor Gordon, though, points out in the excerpt found in the text box at the top of this post that it has great value even beyond test scores.
His belief is reinforced by other recent research (Study: Boosting soft skills is better than raising test scores).
Of course, it would be very difficult, if not impossible, to find a student or teacher in the classroom today who would disagree with the notion that class size reduction is a very worthy change that should be pursued.
Nevertheless, you still have people in positions of influence who remain clueless:
The amusing thing is I feel like this idea used to be a semi-respectable one in some education circles just several years ago https://t.co/vFJukwPVJc

— Matt Barnum (@matt_barnum) June 13, 2021