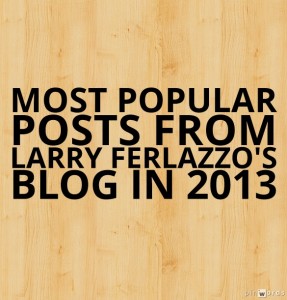 It's time for my annual list of most popular posts. You can see previous popular post lists here.
You might also be interested in seeing a similar list at my Education Week Teacher advice blog.
It's based on the 1.2 million "unique visitors" this blog has had so far this year.
Here are My Most Popular Posts In 2013  (note that some of them have been posted in previous years, but I update them and they continue to retain their popularity):
1. The Best Sites For Online Photo-Editing & Photo Effects
2. The Best Resources For Helping Teachers Use Bloom's Taxonomy In The Classroom
3. The Best Popular Movies/TV Shows For ESL/EFL
4. The Best Online Virtual "Corkboards" (or "Bulletin Boards")
5. The link leading to all my 1200 "The Best…" lists
6. The Best Sites For Teaching About Latitude & Longitude
7. The Best Comic Strips For Students & Teachers In 2012 — So Far
8. The Best Sites For Learning About The World's Different Cultures
9. The Best Sites For Learning Spanish Online
10. The Best Teacher Resources For "Foldables"
11. The Best Sites To Practice Speaking English
12. The Best Sites For Grammar Practice
13. The Best Web 2.0 Applications For Education In 2013 – So Far
14. The Best Places To Read & Write "Choose Your Own Adventure" Stories
15. The Best Web 2.0 Applications For Education In 2012 — So Far
16. The Best Websites For English Language Learner Students In 2012 — So Far
17. The Best Online "Countdown" Timers
18. The Best Websites For Creating Online Learning Games
19. The Best Websites For Learning & Teaching Geography
20. The Best Websites For Developing Academic English Skills & Vocabulary
21. The Best Resources On Helping Our Students Develop A "Growth Mindset"