Check out How to Practice Restorative Justice in Schools at my Education Week Teacher column.
We've begun implementing some restorative practices at our school, and I'll be posting about the topic on a future Education Week Teacher column.
Here are a few resources that seem helpful, and I hope that readers will share more in the comments section:
Opening Up, Students Transform a Vicious Circle is from The New York Times.
Restorative Justice: Resources for Schools is from Edutopia.
Restorative Practices: Fostering Healthy Relationships & Promoting Positive Discipline in Schools is from Opportunity to Learn.
An Alternative To Suspension And Expulsion: 'Circle Up!' is from NPR.
What Eva Moskowitz gets wrong about restorative discipline is from Chalkbeat.
Minding the Discipline Gap in Education is from the Pacific Standard.
Zeroing out Zero Tolerance is from The Atlantic.
Brilliant article: the mindlessness of school suspensions and a better way http://t.co/mY3Ht9uVMQ @acestoohigh @nctsn

— David Bornstein (@dnbornstein) May 18, 2015
The discipline gap in American education needs our attention, too http://t.co/gn38FDZatF pic.twitter.com/83mm64oCP6

— Pacific Standard (@PacificStand) May 15, 2015
Alternatives to Suspension: Inside a 'Restorative Justice' High School in Brooklyn, Listen http://t.co/fZnozXLSUC via @WNYC

— Beth Fertig (@bethfertig) April 27, 2015
Reasons to try out RJ a few schools at a time.//In Classroom Discipline, a Soft Approach Is Harder Than It Looks https://t.co/sTAzzToBps

— Paul Bruno (@MrPABruno) April 15, 2015
From our summer issue: Baby Steps Toward Restorative Justice By Linea King http://t.co/kLh6gJKvHL pic.twitter.com/6GE3fIK90C

— Rethinking Schools (@RethinkSchools) June 21, 2015
Great framework for having restorative conversation with students. #tbsconf pic.twitter.com/t3lgKtthqW

— Sanee Bell, Ed.D. (@SaneeBell) June 23, 2015
Quote Of The Day: Alternatives To Suspending Students
Restorative Justice in U.S. Schools: Summary Findings from Interviews with Experts is from WestEd.
When Restorative Justice in Schools Works is from The Atlantic.
Why some LAUSD teachers are balking at a new approach to discipline problems is from The LA Times.
In L.A. Unified, restorative justice has been slow to take hold is also from The LA Times.
Hillary Clinton Wants to End the School-to-Prison Pipeline. She Should Embrace Restorative Justice to Do It. is from Slate.
Quote Of The Day: "Unhelpful Punishment"
Is Discipline Reform Really Helping Decrease School Violence? is from The Atlantic.
One Key to Reducing School Suspension: A Little Respect is from Ed Week.
One way Denver Public Schools is addressing race and culture in the classroom is from Colorado Chalkbeat.
Important Analysis Of Schools With Fewer Suspensions Makes Important Points, As Well As Highlighting Gaps
When suspensions weren't working, this high school opted for a new approach is from The Washington Post.
NY Times Publishes Best Piece On Restorative Practices That I've Seen
NY Times Article & Video On Dangers Of School "Zero Tolerance" Policies
Rethinking School Discipline is from The American Prospect.
Why Restorative Practices Benefit All Students is from Edutopia.
A Brooklyn Charter School Looks Past 'No Excuses' is an article in The New York Times that described a move towards restorative practices. Here's how it ends: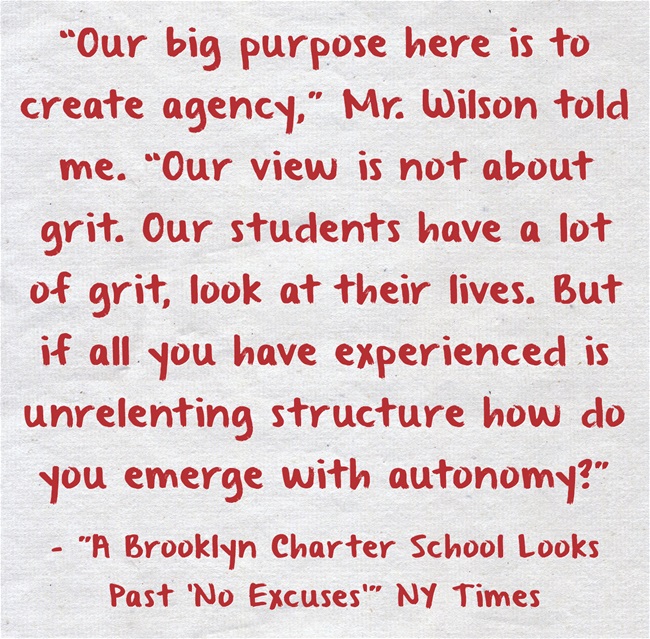 Implementing Restorative Practices In The Classroom is from Getting Smart.
School Suspensions Have Plunged: We Don't Yet Know If That's Good News is from NPR.
Nearly half of California school districts earn top ratings for lowering suspensions is from Ed Source.
Suspending Students Costs Billions in Economic Losses, New Study Finds is from Ed Week.
The School Discipline Revolution: How Policy and Rhetoric Outstrip Hard Evidence is by Matt Barnum.
Focusing On The Impact Classroom Disruptions Have On Others, Not On The Students Doing The Disrupting
Good NY Times Piece On Empathy's Role In School Discipline
The Best Story To Come Out Of The Shutdown Is How They Used A Talking Stick
Restorative Justice in School: An Overview is from Cult of Pedagogy.
Zero tolerance discipline policies won't fix school shootings is from Salon
One Ohio School's Quest to Rethink Bad Behavior is from The Atlantic.
The rise of restorative justice in California schools brings promise, controversy] is from Ed Source.
Quote Of The Day On Restorative Justice
New Study: Suspending Students for Minor Infractions Like Cursing Hurts Kids but Benefits Nobody is from The 74.
STATISTIC OF THE DAY: STUDENTS LOST 11 MILLION INSTRUCTIONAL DAYS IN ONE YEAR DUE TO SUSPENSIONS
GUEST POST: HOW THE CLASS IMPACTS THE INDIVIDUAL AND HOW MENTORS CAN SHIFT THE BALANCE
ANOTHER EXAMPLE OF WHY WE NEED TO BE "DATA-INFORMED" & NOT "DATA-DRIVEN"
BIG NEW STUDY ON RESTORATIVE PRACTICE OFFERS USEFUL DATA & MISSED OPPORTUNITIES
GUEST POST: RESTORATIVE PRACTICES & THE STRUGGLE AGAINST "DUNGEON THEORY"
"Circles" Is A New Documentary On Restorative Practices
Restorative Justice in U.S. Schools An Updated Research Review is from WestEd.
School suspensions related to increases in subsequent offending is from Eureka Alert.
Budget realities challenging California school districts' restorative justice programs is from Ed Source.
One Key to Reducing School Suspension: A Little Respect is from Ed Week.
California schools can no longer suspend K-8 students for using phones. Will this help or hurt learning? is from The L.A. Times.
The Starts and Stumbles of Restorative Justice in Education: Where Do We Go from Here? is from the National Education Policy Center.
A Bloomberg-era policy to reduce suspensions boosted test scores in NYC, study finds is from Chalkbeat.
CEPEG Policy Brief:Exclusionary Discipline and Restorative Justice is from USC.
Teaching Restorative Practices with Classroom Circles is from The San Francisco Unified School District.
Toolkit: The Foundations of Restorative Justice is from Learning For Justice.
Building a Positive School Climate Through Restorative Practices is from The Learning Policy Institute.
Study Finds That Restorative Practices Can Help Bridge Racial Disparities in Schools is from West Ed.
At this Oakland high school, restorative justice goes far beyond discipline is from Ed Source.
The Santa Clara County Office of Education has published a nice-looking Restorative Practices:​ A Toolkit for Educators.
Using Restorative Justice to Transform School Culture is from Edutopia.
Restorative justice explained is from Teach Learn Grow.
What the research tells us about restorative justice in K–12 is from Teach Learn Grow.
The City That Kicked Cops Out of Schools and Tried Restorative Practices Instead is from In These Times.
3 ways teachers can contribute to a restorative justice program's success is from Teach Learn Grow.
Thinking about implementing restorative practices next school year?

Learn from these insights from 5 fellow leaders.

(Thanks to @KarenEWebber, @wyattoroke, @AkobenLLC, @PpalPinkney, Matt Hornbeck and @BaltCitySchools) https://t.co/MHQI2zdBce

— Principal Project (@PrincipalProj) June 3, 2023
What does restorative justice look like? is from The Hechinger Report.
LAUSD celebrates 10 years of restorative justice, but progress remains uneven is from Ed Source.
From Retributive to Restorative: An Alternative Approach to Justice https://t.co/FTcSjV28tm

"This study examines Chicago Public Schools' adoption of RP. We identify decreased suspensions, improved school climate, and find no evidence of increased classroom disruption."

— Paul Bruno (@Paul__Bruno) September 11, 2023