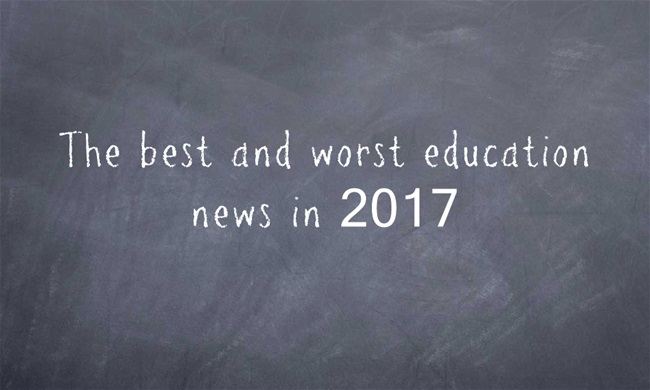 Valerie Strauss at The Washington Post always publishes my annual list, and she'll reprint it in early December.  However, she told me it was okay to give readers of my blog an early peak.
I'm adding this post to All 2017 "Best" Lists In One Place.
Here is my annual recap of the year's Best & Worst Education News. As usual, I don't presume to say it's all-encompassing, so I hope you'll take time to share your own choices. I'll list the ones I think are the best first, followed by the worst. It's too hard to rank them within those categories, so I'm not listing them in any order.
The Best Education News Of 2017
* More states are backing-off using student test scores as part of a teacher evaluation process.  That's good news because of increasing research showing that those scores don't provide accurate pictures of student academic achievement and, in fact, don't show student advancement in many other important skills (not to mention penalizing teachers of so-called "at risk" students).
* Speaking of using test scores to evaluate teachers, Bill Gates announced that his foundation would no longer fund projects that promote that practice.  Instead, he says the foundation will focus on "local ideas."   That's good news though, of course, the devil will be in the details.
* Journalist Nikole Hannah-Jones was awarded a MacArthur Genius grant for her work on the impact of segregation in schools and housing. You can read an example of her work here.
* An attempt by the state of New Mexico to water down teaching of evolution and climate science was largely beaten back by grassroots opposition.
* A federal judge in Arizona ruled that the state's stopping a Mexican-American Studies program was wrongly driven by "racial animus."  The termination of the course ended up being a perfect example of the community organizing adage that "your opponents often do the best organizing for you" as it helped create momentum for ethnic studies courses to expand rapidly throughout the United States.
* Federal data was released showing a decrease in school violence and an increase in students feeling safer at their schools.
* The high school drop-out rate has continued to decrease for all ethnic groups.  Education researcher Kirabo Jackson points out that this positive development also has an often un-reported effect on standardized test scores – while various test scores used to label schools might not be increasing rapidly, that "slow" growth coincides with that substantial reduction of the drop-out rates across all ethnic groups. So, the overall student population taking the tests now has different, and more challenging, characteristics than the student population who formerly took the test.
* The New Teacher Center released an important report finding that increased levels of teacher leadership in schools led to increased student academic achievement. It would be nice if Central Offices and principals read it.
* Researchers found that when teachers at charter schools unionized, student achievement went-up.  What about that?  It's almost like "teacher working conditions are student learning conditions."
* Obamacare repeal failed, so its many benefits to our students, their families and our schools continue to be safe – for now.  Yes, it's true – what happens outside of school has a big impact on what happens in school.
* Millions of students had great learning experiences in their schools this year.
The Worst Education News Of 2017
* President Trump kicked things off at his inauguration by saying that schools are "flush with cash" and our "beautiful students are deprived of all knowledge."  He got the "beautiful students" part right, but blew it on everything else.
* President Trump announced the repeal of DACA, which could result in 20,000 teachers in the program facing deportation, along with 780,000 others.
* Betsy DeVos became U.S. Secretary of Education after a disasterous confirmation hearing which she blames on being "under-coached" (way to model taking personal responsibility!).  In addition to making a number of verbal miscues (no, public schools are not "taxis" and  school choice is not "Uber"; schools aren't like "food trucks" and education is not a "side of fries"; and historically black college and universities are not "pioneers of school choice"), she has also made many destructive policy decisions, including ones on civil rights and for-profit colleges.  If her school choice plan is approved by Congress (or if she takes action on choice without Congressional approval), her legacy will only get worse.
* The Supreme Court announced that it will hear a case next year that will likely lead to the prohibition of required payment of union fees and a terrible blow to teacher unions and others (not to mention students and their families).
* Millions of teachers, students and their families suffered, and continue to suffer, from Hurricanes Harvey ; Irma, and Maria (especially those in Puerto Rico), as well as the Santa Rose fires.
* The Koch brothers have begun an eleven-state effort to recruit and convince Latino families that they should support public school privatization efforts.
* In what might be the most offensive school-related comment by a public official this year (during a time where there has been a lot of competition for that title), an Oklahoma state legislator suggested the state save money by turning over all English Language Learners to Immigration and Customs Enforcement (ICE). "Identify them and then turn them over to ICE to see if they truly are citizens — and do we really have to educate noncitizens?" said Republican Rep. Mike Ritze.
* A Florida High School apparently never got the memo that shaming students is an effective and unethical method of instruction.  In the tradition of schools in the recent past who have given students different colored wristbands for certain privileges and special dances based on behavior and grades, this high school "segregates students at lunch based on GPA."
* As the PBS News Hour reports, "In 30 states, geographic communities can legally break away from large public school districts and form their own. As a result, a growing number of white and wealthier neighborhoods are creating their own schools and siphoning property taxes away from poorer, more diverse districts."  I guess we all have to replicate the work of Nikole Hannah-Jones and others like her.
* More and more schools are grading students' Social and Emotional Learning Schools.  Bad idea!  Learn more at Why Schools Should Not Grade Character Traits.
* Millions of students should have gotten a better education than they did this year.
The Most Important Education News Of 2017 That Isn't Good or Bad
* Most states have submitted plans to the U.S. Department of Education about how they are going to implement the Every Student Succeeds Act.  It's easy for plans to look good on paper.  Let's see how they are implemented….
* Smarter Balanced and PARCC are the two most common standardized tests given in K-12 schools throughout the United States, In an under-reported story this year, all Smarter Balanced State English test scores went down & most PARCC states went up.  I'm not sure what it means, but it seems important to me.
You might also be interested in previous editions of this list:
The good — and very, very bad — education news of 2016
Best and worst Education News of 2015 – a teacher's list
Best and worst education news of 2014 – a teacher's list
The Best and worst education news of 2013
The best — and worst — education news of 2012