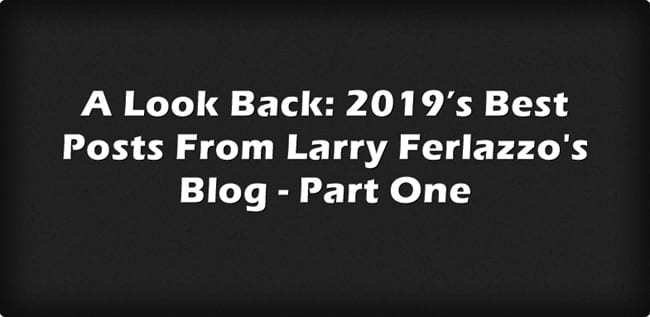 Each year, I re-post my favorite blog posts, and then collect the links into one.  This post is for my favorites from the first six months of 2019.
You can see my choices for each of the past ten years here.
And you can also see a list of my My All-Time Favorite Posts!
I've also been highlighting some of the "best-of-the-best" in the "A Look Back" series.
Here are My Favorite Posts In 2019 — Part One:
THE BEST "BEST" LISTS OF 2019 – PART ONE
GUEST POST – WHAT DOES TOM BRADY HAVE IN COMMON WITH A GREAT TEACHER?
AN SEL TWIST ON THE AUTOBIOGRAPHICAL INCIDENT ESSAY
SCHOLARS APPROPRIATELY RIP RESEARCH SAYING GRADE RETENTION GOOD FOR ELLS
IMPORTANT CLASSROOM MANAGEMENT REMINDER: CURIOSITY CAN WORK BETTER THAN JUDGMENT
THE MOST UP-TO-DATE STATISTICS ON ENGLISH LANGUAGE LEARNERS IN THE U.S.
STUDENT-CREATED SUMMARY VIDEOS OF U.S. HISTORY UNITS – HANDOUTS INCLUDED
BIG NEW STUDY ON RESTORATIVE PRACTICE OFFERS USEFUL DATA & MISSED OPPORTUNITIES
WHAT I WANT TO DO BETTER NEXT SCHOOL YEAR – HOW ABOUT YOU?
HOW COULD I HAVE NOT KNOWN ABOUT GOOGLE'S "DATA GIF MAKER"?
NEW STUDY FINDS THAT THINKING WE MIGHT KNOW SOMETHING, BUT THEN DISCOVERING WE DON'T, IS MOST MOTIVATING TYPE OF CURIOSITY
"HOW THE WORLD VOTES" IS A VERY IMPRESSIVE INTERACTIVE
NO SURPRISE: STUDY FINDS THAT EDUCATORS WHO "DON'T SEE COLOR" HARM STUDENTS OF COLOR
"SLAVEVOYAGES.ORG" UNVEILS NEW SITE & IT'S AMAZING – & TRAGIC
NEW STUDY SAYS STUDENT SELF-ASSESSMENT EFFECTIVE & IT MAKES ONE PARTICULAR USEFUL POINT
ANOTHER STUDY FINDS ELICITING EXPLANATIONS FROM STUDENTS IS MORE EFFECTIVE THAN TELLING THEM
RESEARCH HIGHLIGHTS THE IMPORTANCE OF CREATING "FRESH STARTS" FOR OUR STUDENTS
HERE ARE COVERS FOR THE THREE BOOKS WE'RE EDITING: MATH, SCIENCE & SOCIAL STUDIES
AN OUTLINE FOR HOW STUDENTS CAN LEARN TO WRITE ESSAYS INDUCTIVELY
INFOGRAPHIC: "EXPANDING SENTENCES"
EDITING LIST FOR WHEN TEACHERS WRITE BOOKS
OUR THREE VIDEO SERIES ON DIFFERENTIATION, INCLUDING TWO NEW ONES!
HOME CULTURE PROJECT – WITH NEW EXAMPLES & STUDENT HANDOUTS!
STUDENT-WRITTEN GROWTH MINDSET STORIES
TWELVE WAYS ELLS – & ANYONE ELSE – CAN READ & DEMONSTRATE UNDERSTANDING OF A TEXTBOOK CHAPTER – ADD TO THE LIST!
"WE ALSO SHOULDN'T LET WHITE PEOPLE OFF THE HOOK"
IS ANY TEACHER SURPRISED THAT NEW STUDY FINDS TEXTBOOKS NOT KEY TO STUDENT LEARNING?
WAYS TO TURN A BAD TEACHER-STUDENT RELATIONSHIP INTO A GOOD ONE
IT'S NO SURPRISE TO TEACHERS, BUT RESEARCH SUGGESTS THAT MOST BENCHMARK ASSESSMENT ARE USELESS
"THINKALONG" LOOKS LIKE A GREAT SITE TO PROMOTE CRITICAL THINKING
HERE'S MY SHORT UNIT ON FOLKTALES – INCLUDING STUDENT HANDOUTS