Also, see Documents That Changed The World
I know the title of this list sounds a bit "meta," but there are a number of useful articles out there sharing ranked lists of influential people and events. I use them as models for my student assignments where they have develop their own while providing evidence to back-up their positions. I've posted a few of these in the past, and thought it would be helpful to readers and to me to bring them together into one place.
You might also be interested in The Best Resources For Using "Object Lessons" In History and The Best Sites To See "Photos That Changed The World" (and Very Interesting: The Most Important Letters In History).
So, here are my choices for The Best Lists Of Lists Of Influential People, Events & Ideas (feel free to contribute more):
The 10 greatest changes of the past 1,000 years is an excellent article in The Guardian. In it, a historian describes shares his opinion of the greatest change that occurred in each of the last ten centuries (note: please see an important critique of this list in the comments section).
It's a fascinating article, I think, for anyone to read. The real reason I'm posting about it, though, is because I'll be using the idea in my World History class for English Language Learners. We're just finishing up a unit on the "First Civilizations," and I think I'll ask them to identify what they think is the greatest change that happened during that period and why they chose it. If it goes well, I might make it a regular assignment at the end of each unit.
TIME has published an accessible feature called The 20 Most Influential Americans of All Time.
The Discovery Channel published a similar project a few years back (that link is to its Wikipedia page that shows their list — they took the original neat website off-line).
Here's the simple assignment I gave my students using it (and, the next time I teach U.S. History, I'll add the TIME piece, too):
A television channel did a poll to find out who people thought were the Greatest Americans, and then ranked them from the most important to the one hundredth most important.
Think about all the Americans we have studied so far. Pick who you think are the top five Americans and rank them one-through-five. Find a picture of them, write about what you think was their major accomplishment, and explain why you ranked them where you did.
Meet the 100 Most Significant Americans of All Time is from Smithsonian Magazine.
80 Moments That Changed The World is from The British Council.
100 Years; 100 Thinkers: The New Republic Ranks The Minds Who've Defined Our Century.
The 100 Most Influential Figures in American History is from The Atlantic.
30 Books That Changed The Course Of History
Who's Biggest? The 100 Most Significant Figures in History is from TIME.
Neat Online Exhibit On "Discoveries That Changed The World"
You can also find that infographic here.
The 17 equations that changed the course of history is from Business Insider.
Vote To Choose "The Worst Year In History"
You can also find more infographics at Visualistan
Americans Name the Top Historic Events of Their Lifetimes is from The Pew Research Center.
If you had to name the 10 historic events that had the biggest influence on the U.S. during your lifetime, what would you say? pic.twitter.com/GHjNLOM2bY

— Pew Research Center (@pewresearch) March 19, 2017
25 Moments That Changed America is from TIME.
Ancient World Maps that Changed the World: See Maps from Ancient Greece, Babylon, Rome, and the Islamic World is from Open Culture.
2000s: 10 Words That Define a Decade is from National Geographic.
I've just learned that every July 4th, TIME publishes the thoughts of different historians on "25 Moments That Changed America."
Here are their choices from 2017, 2016 and 2015.
12 Groundbreaking Infographics That Changed the World is from Visme.
Seven game-changing handshakes is a slideshow from EuroNews.
Handshakes that shook the world is from Yahoo.
What Accident Most Changed the Course of History? is from The Atlantic.
Recalls the amazing back-yard wind-power pioneer Charles Brush in 1887 in Cleveland, Ohio! This from my new book of 100 moments in humanity's evolving relationship with weather and climate (harnessing the wind). https://t.co/mob2Of5dby pic.twitter.com/7xjgcjQ9WP

— Andy Revkin (@Revkin) April 23, 2018
Maps That Changed Our World is a great interactive from The Library of Congress.
The Top 100 Weather and Climate Moments of the Last 4.567 Billion Years is from The Weather Underground.
TIME published The 25 Moments From American History That Matter Right Now.
The 16 greatest cities in human history, from ancient Jericho to modern Tokyo is from Business Insider.
TIME has just published an excellent piece headlined "15 Unsung Moments From American History That Historians Say You Should Know About."
The Lines of Code That Changed Everything is a Slate article that discusses what they say are the thirty-or-so most important lines of computer code in history.
TIME shared the answers to a different question: 21 Lessons From America's Worst Moments. And, this time, it looks like they have made an attempt to get a more diverse group of historians to answer their question than in the past.
The Five Most Important Scientific Equations Of All Time
Timeline:Key Events in U.S. History that Defined Generations  is from Visual Capitalist. You can find more information on it – and a bigger version – at the link.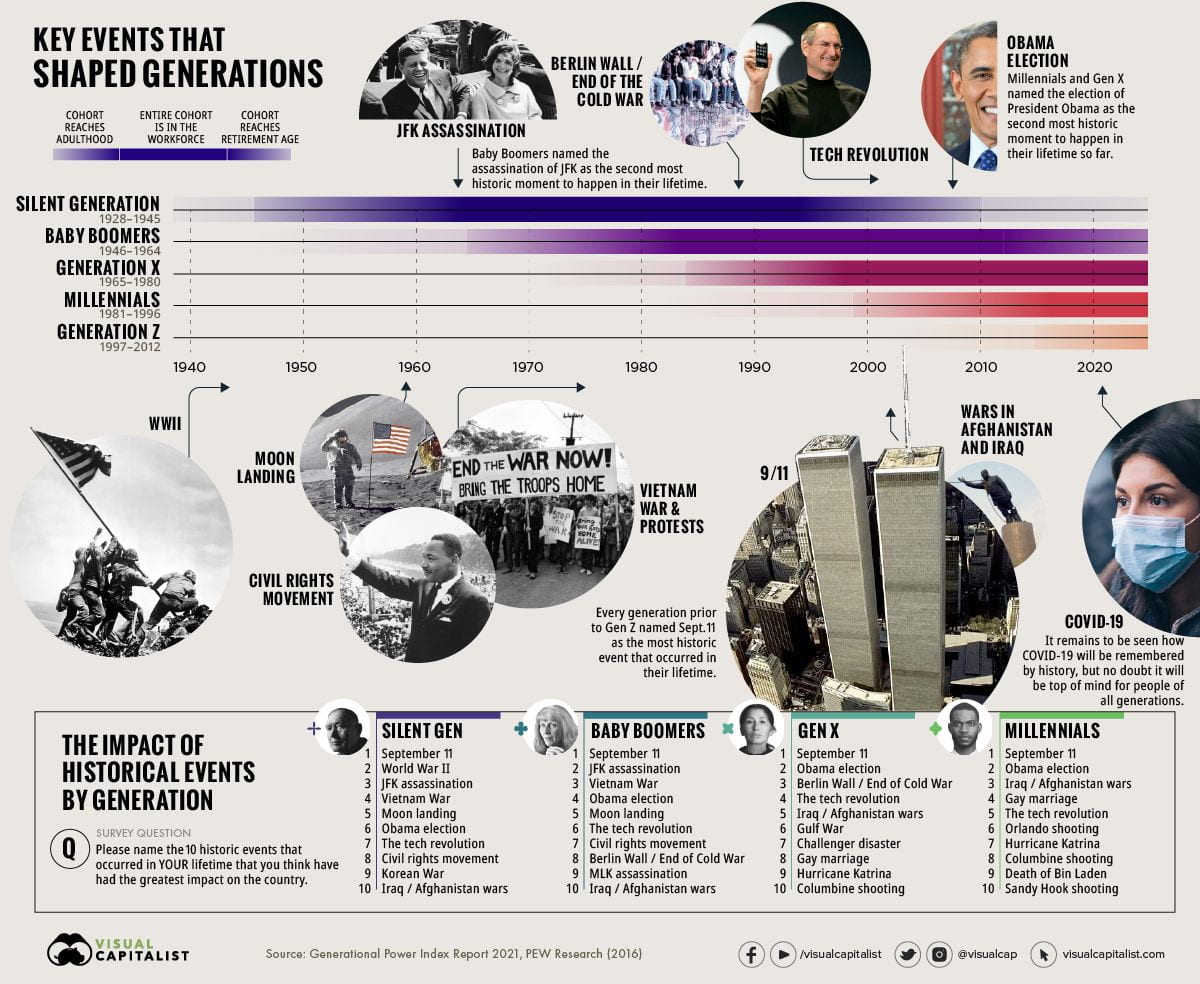 THIS WOULD BE AN INTERESTING SOCIAL STUDIES ASSIGNMENT: CHOOSE THE BEST & WORST YEARS IN HISTORY
"Memory Of The World" Is An Interesting New Addition To Google Arts & Culture
Ideas That Changed The World is an interesting site on Google Arts and Culture.
This is a pretty interesting new TED-Ed lesson and video:
17 Equations that changed the world. 🧠 pic.twitter.com/Ic9BWGcoKq

— Prof. Feynman (@ProfFeynman) November 25, 2022
I'm sure I've posted other similar lists over the years, but just can't find them right now. Again, feel free to share suggestions of others to include…